Listen + educate
We wanted to get a sense of where our business was in terms of D+I and to hear first-hand what our teams were saying. So, we held listening group sessions to get their views and ideas about what D+I means to them.
We want our business and our people to have as much information as possible on how to create a diverse workplace, so we can make Levy as inclusive as possible. We've partnered with Inclusive Employers where we have access to webinars with guest speakers and other educational content that will help inform our teams about important D+I topics and best practices.
Ayomide Ajayi, Levy UK + I Diversity and Inclusion Lead
"As someone from an ethnic minority background, a woman, and neurodiverse, being the D&I Lead for Levy is incredibly important to me. I aim to be a role model for the next generation of talented individuals that we employ in our business. By representing many groups of people, I hope to create a space where individuals can feel comfortable being themselves and easily find mentors and role models that represent them.
Diversity promotes a rich and talented workforce with a range of different cultures, ideas, and thought processes that can make the Levy business better than ever before. I am honored to sit on the Steering Group of the Within Network and work closely with other employee networks, such as Women in Food, Pride in Food, and Ability, to continue to attract and educate new and existing talent in our business."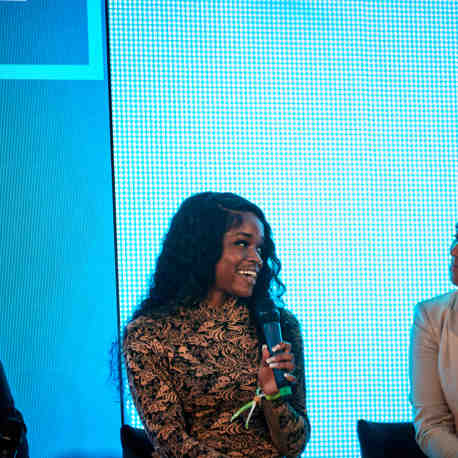 Attract + develop
We post our jobs on a number of diverse job boards so that we can attract the best talent and have a workforce that is representative. We also have a few initiatives that encourage our employees to grow through the business and reach their highest potential.
We have just launched our Within Ambassador Programme which allows employees to have the responsibility to communicate with their teams, drive the D+I agenda, and feed back to the network in order to make real change.



Take a stand
We want to raise awareness around the D+I agenda and create more movement around it. We want to spread the word and educate our teams on all things to do with D+I, and the more we talk about it, the more comfortable people become and then change can start to happen.
One way we are getting D+I on the agenda is through InclusiviTEAs. InclusiviTEA is an initiative that came from our celebration of National Inclusion Week 2020 and the idea is to sit down with your team or a colleague over a cup of tea and discuss all things D+I related. It can be very informal but it's a good way to get people to start talking about D+I, whilst catching up with your team members.